Could Veer be Boston's Best New Parking App?
December 11, 2014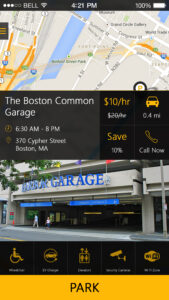 Lately, Boston has had an influx of new and innovative phone applications, and it's no surprise why. How much time have you wasted circling dense neighborhoods like Harvard Square, the North End, or Beacon Hill looking for a parking spot? It's nearly impossible to find a metered spot in many compact city centers. And who can't relate to that exciting moment when you see an open spot between two cars, only to find out that there's either a fire hydrant there or the space is restricted to residential parking only? Or 15-minute parking? Or commercial vehicle parking? Or, it's a tow zone.
A few parking applications have popped up in the Boston area, including the recently-banned Haystack, which was cause for concern for the City of Boston because of the application's so-called privatization and monetization of public parking spaces.
Enter Veer: a real-time, GPS navigation and mapping app of nearby parking locations with hourly rates in your vicinity.
Co-founders Aaron Kolenda and Jonathan Corbin are still working on how to integrate Boston's event parking influx into their application. This can be a difficult task since these prices are not usually publicized and often raised by the garage owner/manager at the time of event without notice.
A similar app, Best Parking, has been around since 2007 and seems to have a comparable application to that of Veer, except that it is accessible in a multitude of cities around the US and Canada. It will be interesting to see how these two will compare and compete.
Do you see yourself using Veer the next time you're looking for parking, or do you typically opt for the convenience of finding the closest parking spot to your destination? Do you think the use of this application could be another source of distracted driving?