HSH Selected as 2016 WTS-Boston Employer of the Year
July 13, 2016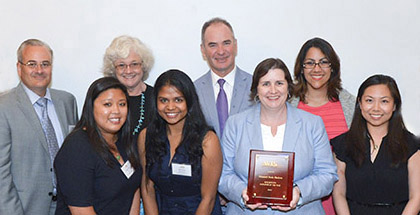 Similar to WTS, Howard Stein Hudson (HSH) was founded by two women in the 1980's who were working in the transportation industry. Jane Howard and Kathy Stein, colleagues from their work together at the City of Boston, founded HSH in 1987 at Jane's dining room table in Dorchester.  Jane and Kathy crafted HSH's core mission – to create the best solutions for complex challenges in all transportation modes – all while Jane held a bouncing baby in one hand and a pencil over design drawings in the other.  From its inception, HSH has been a company that values the enthusiasm and drive of young female engineers, allowing them the resources and tools to enhance their career, while promoting and advocating for a healthy work/life balance.  This value remains with the company today, 29 years later.
HSH is now a multidisciplinary engineering and planning firm with offices in Boston and Chelmsford.  Currently, 42% of our 60 talented and enthusiastic professionals are women.  We provide civil engineering, transportation planning, traffic engineering, construction services, and public involvement to public and private clients.  We're more than engineering experts at HSH – we're the keystone of complex projects.  Our tightly integrated relationships with both clients and reviewing agencies ensure that sophisticated projects succeed swiftly and efficiently, no matter the scale.  Our closely engaged, collaborative nature means we provide exceptional project delivery, helping our clients shape the face of Boston and beyond for years to come.
HSH is committed to attracting, retaining and supporting a diverse workforce including 9 women in leadership roles such as WTS member Keri Pyke, P.E., PTOE, Principal of Planning and Public Involvement; Katie Enright P.E., Associate, Project Manager, Senior Civil Engineer, Manager of Chelmsford Office; WTS member Bridget Myers, P.E., Associate, Project Manager, Senior Civil Engineer; and WTS member and Professional Development Co-Chair, Jackie Carver, Project Manager, Transportation Engineer.
With nearly half of our firm being comprised of women, HSH has certainly assisted in enhancing female presence in the transportation industry.  HSH encourages and challenges all employees to learn more about transportation from both the business and technical point of view – sparking a passion for the industry and a clearly defined career path.