A SUCCESSFUL NEW WAY TO DELIVER SAFETY IMPROVEMENTS AT HIGH CRASH LOCATIONS
October 26, 2011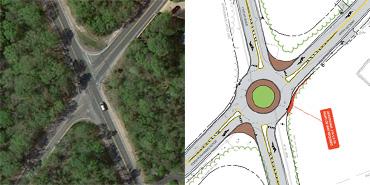 ROAD SAFETY AUDITS (RSA) AND HIGHWAY SAFETY IMPROVEMENT PROJECTS (HSIP) A CASE STUDY – SANDWICH, CAPE COD
Known as one of the most hazardous intersections on Cape Cod, the intersection of Cotuit Road, South Sandwich Road, and Harlow Road needed safety improvements. HSH supported these improvements through a new safety delivery method – a Road Safety Audit (RSA) followed by highway safety implementation.
With HSH's solid track record for planning, public involvement, and engineering, MassDOT awarded the company with a Statewide Road Safety Audit Contract in 2007 and then followed that in 2009 with the safety implementation contract for the Cape Cod Region.
Working with MassDOT's District #5 and Boston offices, the Town of Sandwich, and the Cape Cod Commission (CCC), HSH prepared the RSA for the location. The RSA is a low-cost strategy in line with the perspectives of the Fire Chief, Police Chief, Town Engineer, MassDOT District, Traffic, and Project Management Sections, and the regional CCC.
Of the numerous alternatives, the RSA considered a modern roundabout as the most effective safety solution. This was primarily due to the similarity of the approach traffic volumes coupled with the offset geometry of the intersection.
Quickly moving into the implementation, MassDOT and the CCC programmed the project as a "Target Project" for the 2011 Transportation Improvement Program (TIP).
The design was complete in Summer 2011, and the construction is currently underway on the $900,000 safety improvement project.