Two Prominent, Multimodal Projects Win ACEC Awards
March 15, 2018
HSH is honored to be involved in two prominent, multimodal projects that won 2018 ACEC Engineering Excellence awards. Collaborating with our clients, creating safer environments, and developing visions for multimodal integration are all hallmarks of HSH's work. The award winning projects are the East Boston Central Square Complete Streets Reconstruction and the Quincy Center Transportation Improvements Project.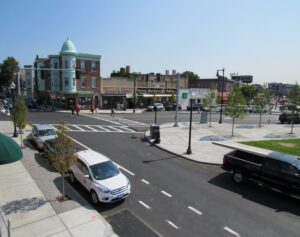 East Boston Central Square Complete Streets
Reconstruction Project
HSH worked with the Boston Transportation Department (BTD), Boston Parks and Recreation Department (BPRD), Boston Public Works Department (BPWD), and the Boston Water and Sewer Commission (BWSC) on the design of the roadway, drainage, and streetscape improvements in Central Square. HSH led the multi-disciplinary team providing transportation planning, civil engineering, traffic engineering, public involvement, stormwater management, and bid and construction phase services.
This East Boston project creates a safer environment for cyclists; shortens pedestrian crossings, expands the park, and widens the sidewalks; includes green stormwater infrastructure elements; and provides safer back-in angle parking. This project was completed in September, 2017.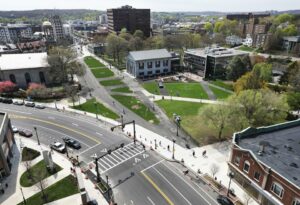 Quincy Center
Transportation
Improvements Project
Howard Stein Hudson is proud to have collaborated with the City of Quincy and MassDOT to deliver a transformative, ACEC award-winning transportation improvement project. To implement a revitalized vision for Quincy Center, we developed a plan to repurpose 500 feet of an urban arterial roadway to parkland. Our plan showed that closing a section of Hancock Street, coupled with circulation changes, would enable the vision of the new civic space to be realized; one that reconnects the Church of the Presidents with Quincy City Hall and the Quincy Center MBTA Station. The $6.6 million project was completed in the Summer of 2017.
For more information on these projects:
East Boston Central Square Complete Streets Reconstruction
Quincy Center Transportation Improvements