Our Newest Associates, Hans Kuebler, P.E., and Chris Mullins!
December 09, 2020
Our Newest Associates, Hans Kuebler, P.E., and Chris Mullins! Please join us in congratulating our newest Associates, Hans and Chris. Both are recognized for their contributions to HSH, in addition to their individual skill sets.
"We are proud of the contributions Hans and Chris have made to HSH's growth and celebrate their promotions to Associate. Providing exceptional service to their clients is their priority and it shows in all they do," stated Tom Stokes, P.E., President and CEO of HSH.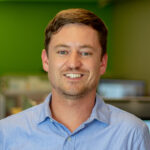 Hans Kuebler, P.E., is a Senior Civil Engineer experienced in traffic engineering, civil engineering, traffic analysis, project planning, and construction management. He has worked in a variety of roles for public and private developments, from the design stage through construction and project close out. This includes managing and designing plans, specifications, and estimates; functional design reports; and construction phase services. Hans' recent Boston experience includes construction management for a center-running bus lane, station platforms, and extensive pedestrian/bicycle improvements along Columbus Avenue; providing design, drafting, and review assistance for the Construction Management Plan (CMP) and Temporary Traffic Control Plans (TTCP) for Parcel P and Bulfinch Crossing; and designing horizontal and vertical alignment for the temporary North Washington Street Bridge.
Click here for more information on Hans.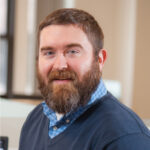 Chris Mullins, Senior Graphic Designer, is a communication-focused graphic designer specializing in traditional and digital illustration, as well as graphic design. He plays a key role in providing HSH clients with high-quality products. Chris manages our internal resources to plan, lay out, and finalize the graphic and illustrative sides of our client-facing reports and publications.  He designs marketing and communication collateral for both print and online use including brochures, trade shows graphics, fact sheets, and websites. Chris implements additional and alternate design procedures to speed up day-to-day aspects of production and eliminate redundancy.  He works inter-departmentally to create digital flyers, postcards, and invitations to company-sponsored and AEC-related events. He has both the strict skill set of a traditional graphic designer, as well as the problem solving, concept design, and communication skills of a traditional illustrator.
Click here for more information on Chris.
Please join us in congratulating Hans and Chris!