Please join us in congratulating our new Associates, Elaine Canepa, SPHR, SHRM-SCP, and Bryan Zimolka, P.E.
August 28, 2017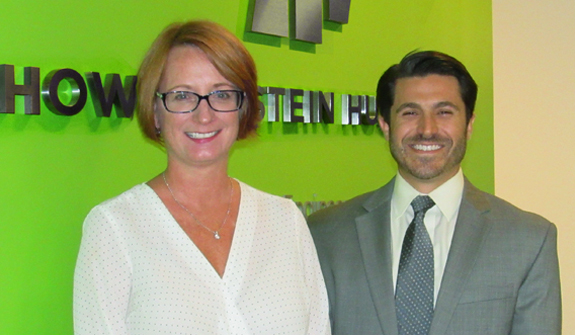 Elaine Canepa, SPHR, SHRM-SCP, Human Resources Manager
As our Human Resources Manager, Elaine has been central to the development and growth of the firm over the past three years.  With a natural ability to understand the demands and needs of our staff, Elaine cultivates a supportive atmosphere that allows our staff reach their full potential.  Elaine oversees compliance, helps to identify and recruit top talent, and manages our benefit portfolio, while maintaining a very optimistic outlook.
"Elaine's motivation is attributable to a desire to make a difference in an employee's career. This is very clear every day" says Principal Bob Dankese, who additionally notes Elaine's development and promotion of the many engagement groups within the firm, including our volunteer committee, fun committee, book club, and numerous social events.
Elaine graduated from Walden University with a Bachelor of Business Administration and is a Senior Professional in Human Resources (SPHR) and a Society for Human Resources Senior Certified Professional.
Click here for more information on Elaine.
Bryan Zimolka, P.E., Senior Civil Engineer
Bryan's expertise in developing and implementing temporary traffic control for development and infrastructure projects has minimized inconvenience to the public while promoting safety and meeting schedule milestones. From establishing safe work zones along I-90 to remove the ceiling of the Prudential Tunnel to the construction of the 60-story Millennium Tower in Boston, he has delivered creative solutions for construction projects throughout Massachusetts.
"Bryan's understanding of construction management has generated a deep level of trust between the regulatory agencies and the contracting world.  His promotion to Associate reflects his commitment to our clients and their projects as well as his strong technical skills and leadership," notes Associate Principal Robbie Burgess.
Bryan is very active in professional organizations, currently serving as the Chair of the Transportation and Development Institute of the Boston Society of Civil Engineers.  In 2015, Bryan was named the Boston Society of Civil Engineers' Bertram Berger Young Engineer of the Year.
Graduating in 2008 from the University of Delaware with a Bachelor of Science in Civil Engineering, Bryan is also a Registered Professional Engineer in the Commonwealth of Massachusetts.
Click here for more information on Bryan.
Please join us in congratulating Elaine and Bryan!