Northern Strand Community Path
September 21, 2020
Well-connected Regionwide Trail Systems Improve Safety for All Users
The Greater Boston region is well on its way to establishing a connected regional system of shared use paths or trails. The following is the first in a series of spotlights to highlight critical projects coming together in various parts of the region to make this system a reality. The benefits of a well-connected, regionwide trail system are many:
Providing all residents in Greater Boston with a safe place to walk, bike, skate, etc. that is family friendly and enjoyable for all;
Connecting communities with high quality infrastructure that allows people of all skill levels to make more trips by biking or walking, including work trips, shopping, or visiting friends; and
Creates a space to highlight natural beauty, public art, and iconic or historic features of the communities it passes through.
This edition features, the Bike to the Sea Trail, also known as the Northern Strand Community Path, which is a 11.5-mile trail project that connects the cities of Everett, Malden, Revere, Saugus, and Lynn along the former Boston & Maine Railroad's Saugus Branch Railroad. About half of the trail (green part in map below) is already paved, and the rest will soon be. The red segment in the map below is an extension designed by HSH that will connect to the new Encore Casino Riverwalk. This segment is currently in the bidding process with construction planned to begin this fall. The dark blue and light blue segments previously had a gravel surface open for use but are currently being paved with asphalt. The yellow segment is also under construction to be paved. All four remaining segments currently will be completed between 2020 and 2022.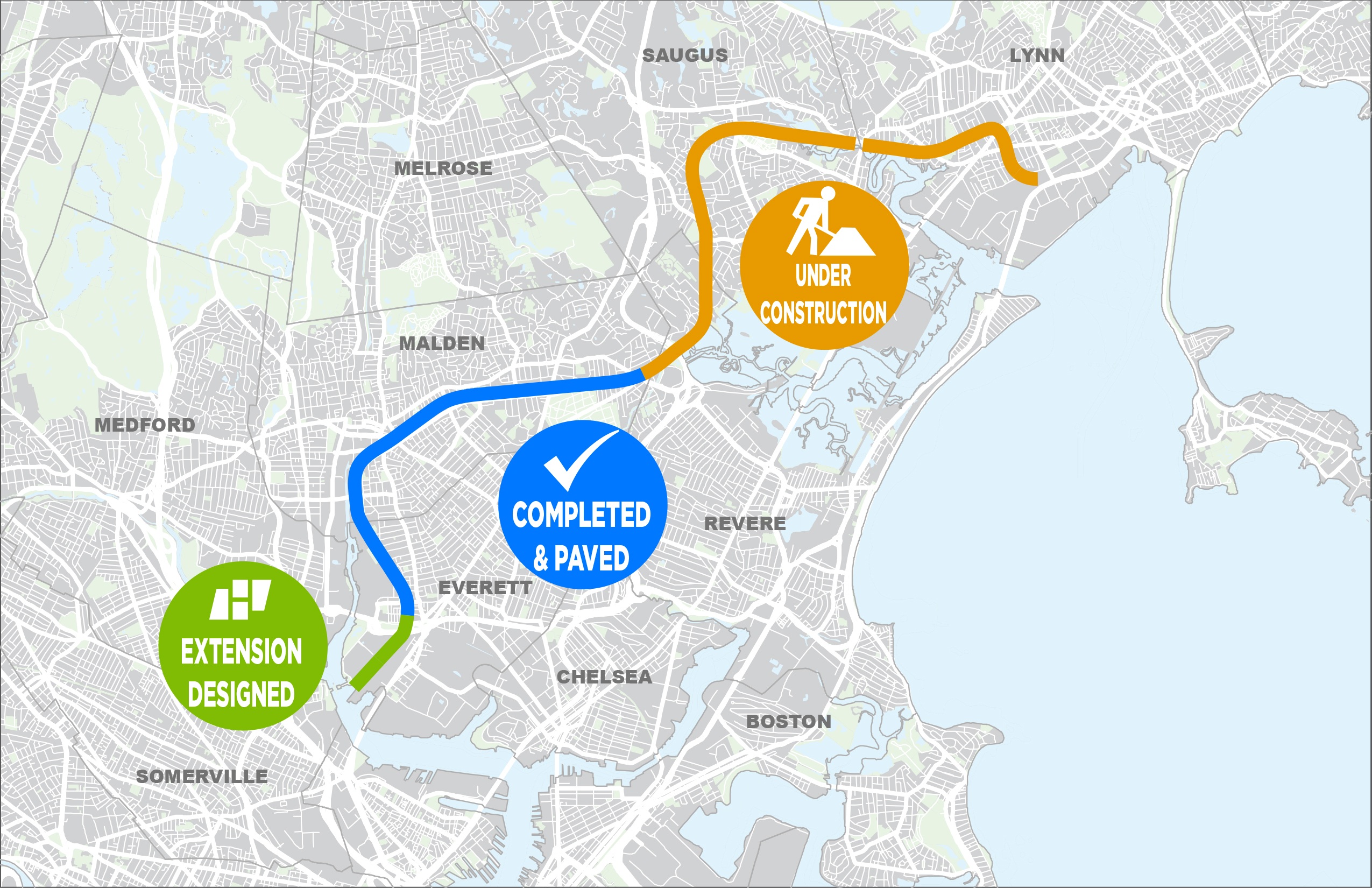 All these pieces together will allow for bicyclists to enjoy a comfortable ride between Boston and Lynn, fully separated from traffic nearly the whole way. There are on-road bike lanes (shown in red below) for the last stretch between Everett and Boston, but the City of Everett has done great work in making them more comfortable than your average bike lane with few driveways and no adjacent on-street parking and by adding green intersection conflict markings, clear signage, bike boxes for turning movements at the intersections, and a smooth surface for bicyclist comfort on the draw bridge over the Mystic River. The separated bike lanes pick up again on the Boston side of the river and carry bicyclists from/to the bridge through Sullivan Square, thanks to a redesign by HSH.