New Planning & Community Design Assignments at Howard/Stein-Hudson
October 26, 2011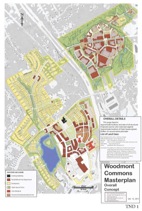 Londonderry Woodmont Commons Development Review Services, Londonderry, New Hampshire
HSH led the winning team for professional assistance to the Londonderry New Hampshire Planning Board in the technical review of the Woodmont Commons Planned Unit Development (PUD) proposal, located on approximately 625 acres of land near Londonderry's commercial retail area along Rt. 102 to the south, residential development to the north and west and within one mile of Interstate 93 at Exit 4 to the east. This proposed "New Urban" mixed use development evolved out of a community design charrette conducted by Duany Plater-Zyberk. The concept plan contains new villages consisting of as much as 1,300 dwelling units of varying types, 1,782,500 square feet of non-residential development and up to 550 hotel rooms. This is the largest mixed use development proposal made in the Town of Londonderry and one of the largest in the State of New Hampshire.

Town Center District Design Charrette and Form-Based Code, Malta New York
The Town of Malta, located 5 miles south of Saratoga Springs is growing and changing rapidly as a result of the developing Luther Forest Technology Campus (LFTC) and the Global Foundries chip manufacturing facility. These economic engines have begun to create hundreds of new jobs and drive growth in other sectors including commercial and residential construction at a scale that the Town has not seen before. Malta faces the challenge of preserving its community character and maintaining a high level of public facilities and services.
HSH has been hired as part of a consulting team to assist the Town of Malta and Capital District Transportation Committee in preparing the Town Center Form-Based Codes, Compete Streets Design Hierarchy and Regulating Plan. A critical goal for the new code is to clearly define the function and purpose of these different segments (or transects) in order to achieve the planning objectives of the community. The new code will also build off of a week-long community design charrette geared to facilitate a vision of the size, scale and placement of new mixed use development supported by improvements to the public realm such as streets and trail networks, and civic spaces for active and passive recreation.
New Jersey Institute of Technology Brownfield Opportunities Program, EPA Regions 1, 2 and 3
HSH has been retained to assist New Jersey Institute of Technology (NJIT) with a grant program to assist urban, suburban and rural communities within EPA Regions 1, 2, and 3 in developing strategies for redeveloping brownfields sites, conducting design charrettes and preparing conceptual plans, and assisting in the design of and planning for community outreach events. Selected brownfield sites have been strongly influenced by decades of shifting socio-economic trends, land use patterns, infrastructure changes, environmental policy and land use regulations. These trends will continue to shape the brownfield sites as the communities move forward with redevelopment programs. HSH will be assisting these communities in preparing a "new vision" founded in effective public involvement and leading to the desired type and form of redevelopment to fulfill the community's economic, civic, and quality of life goals.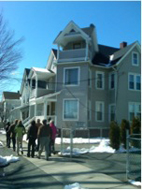 Merrick Neighborhood Rezoning and Complete Street Standards, W. Springfield, Massachusetts
The historic Merrick Neighborhood has long been a diverse and mixed income with traditional development patterns, attractive streets and working class residents. Supported by neighborhood scale businesses and the adjacent industrial core centered on the CSX rail yard, the study area has been affected for decades by the changing trends of the regional economy. In June, 2010, the area was struck by a tornado posing a series of new challenges for those who live and work in the neighborhood. The Town of West Springfield has responded in many ways to restore the neighborhood including the opportunity to address long term planning and zoning issues that have hampered redevelopment.
HSH has been retained as part of a consulting team to assist the Town and Pioneer Valley Planning Council in evaluating existing development patterns and preparing zoning changes identified in the recent Town Master Plan to encourage mixed use development and "Complete Streets" to enhance and reinforce the compact, walkable, small scale mixed uses in the Neighborhoods. In preparing these context-sensitive zoning changes, a major focus is broad-based public participation with landowners, businesses, homeowners and tenants, as well as underserved populations represented by community groups, clubs, service organizations, and social service providers, clergy.