New partners for new growth
September 29, 2014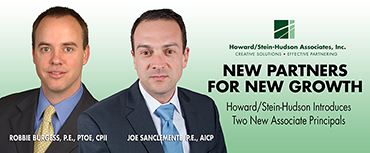 Howard/Stein-Hudson Associates, Inc. is delighted to announce that Robbie Burgess, P.E., PTOE, CPII and Joe SanClemente, P.E., AICP, are now Associate Principals with the company.
Robbie Burgess, P.E., PTOE, CPII
Robbie is a familiar face in the world of Boston infrastructure. With extensive background in traffic management, Robbie has ensured roadways, tunnels, and buildings are constructed with minimal disruption to the traveling public. Robbie's work on the removal of the ceiling panels in the Prudential Tunnel – with minimal traffic flow disruption – is just one recent example of the caliber of his technical skills and collaborative nature. Robbie has bridged the gap between design and construction, resulting in successful project delivery, no matter the scale or complexity.
Joe SanClemente, P.E., AICP
Joe is a leader of transportation planning in Boston and beyond. From Route 28 on Cape Cod, to the Master Plan for Northeastern University, to Road Safety Audits across Massachusetts, Joe has provided essential insight on a wide array of transportation projects. His analytical mind and clear communication skills consistently drive efficient project delivery and excellent results. With the rare combination of professional engineering and planning license, Joe truly understands both the big picture and the fine details.
Please join us in congratulating Robbie and Joe on their continued success with Howard/Stein-Hudson!