Leaders, Achievers, and Forward Thinkers!
September 05, 2019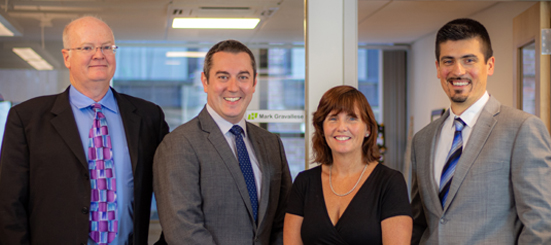 Please join us in congratulating our newest Associates: Steve Tyler, P.E.; Ian McKinnon, P.E., PTOE, RSP; Kelly Pelland; and Haralampos 'Bob' Stathopoulos, P.E., PTOE.
Please join us in congratulating our newest Associates! With skills ranging from civil engineering, traffic engineering, and transportation engineering and planning to accounting and business management, these experienced team members are recognized for their contributions to the clients we serve and to the entire HSH family.
"Our newest Associates offer strong technical, communication, and leadership skills, which embody the collaborative spirit of our firm. I am so pleased to announce and congratulate Ian, Kelly, Bob, and Steve!" – Tom Stokes, President
Steve leads our Worcester office and draws upon a talented group of transportation engineers, planners, and public outreach specialists to assist clients with realizing their visions.  Steve has more than 30 years of consulting engineering and municipal public works experience, including a wide range of civil engineering and transportation projects.  Just prior to joining Howard Stein Hudson, Steve was the DPW Director for the Town of Spencer for more than seven years and is, therefore, very familiar with the challenges that municipalities face and how to resolve them.
Click here for more information on Steve.
Ian is a transportation engineer and planner with experience in land development permitting, traffic signal design, transit planning, complete streets, traffic modeling and forecasting, and bike facility design. He has worked with a range of municipalities and agencies in Massachusetts, including work on the MassDOT I-90 Allston Interchange project. Ian is currently serving as the Vice President of ITE New England.
Click here for more information on Ian.
Kelly is a Senior Accounting Assistant with more than 15 years of accounting experience in the A/E/C industry.  She contributes to our firm's financial success through her direct communications with staff, clients, and vendors.   She oversees many areas of accounting for the firm, including G/L, AP, AR, external audit facilitation, billing, and payroll.
Click here for more information on Kelly.
Haralampos "Bob" has 10 years of experience in traffic engineering and has worked in a variety of state and local municipality projects, offering solutions to different traffic engineering problems in a cost-effective manner. As a Senior Traffic Engineer, Bob has a proven track record on projects involving developing appropriate signal phasing and timing plans that provide efficient and safe operations for all road users; conducting Synchro analysis models; writing Conceptual Design Reports (CDRs); organizing and presenting at public hearings; and preparing traffic signal and pavement marking plans, estimate calculations, and specifications
Click here for more information on Bob.
Please join us in congratulating Steve, Ian, Kelly, and Bob!