HSH Sponsors Panel on the Importance of Transportation Investment
October 26, 2013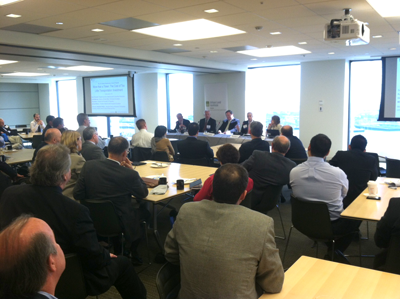 HSH proudly sponsored the Urban Land Institute's (ULI) recent panel discussion, 'More than a Token: The Cost of too Little Transportation Investment'. The panel was comprised of representatives from the Massachusetts Competitive Partnership, CV Properties, The Boston Foundation, and the Massachusetts Taxpayers Foundation.
Last year, ULI Boston issued the report, "Hub and Spoke" which explored the growing ridership of the MBTA and how this growth is straining the aging system's capacity. The report emphasized the importance of transportation funding, which is a central topic of debate in the current legislative session. The panel also featured The Boston Foundation's recent report on underfunding transportation infrastructure, "The Cost of Doing Nothing".
The panel's topics of discussion included:
How does the private sector view infrastructure investment?
What are the possible ramifications for regional employment, if the legislature underfunds expansion and repairs of the system?
How much leverage of private investment is at stake?
What are the real tax implications?
The Boston Foundation's report, "The Cost of Doing Nothing" can be downloaded here.