Grand Opening of New Balance's Warrior Ice Arena
September 14, 2016
As part of the development team, HSH's Liz Peart and Alexandra Siu attended the Grand Opening of the Warrior Ice Arena, the latest completed building in New Balance's Boston Landing mixed-use development in Brighton.  The Warrior Arena is the new practice facility of the Boston Bruins and the home arena to the Boston Pride of the National Women's Hockey League.  The opening was held last week to a crowd of 600 enthusiasts, the development team, and press.  Liz said, "With over 175,000 square feet, the new facility is very impressive.  In addition to the Bruins and Pride, the arena will also host youth hockey and public skating sessions, making it an exciting new destination in the neighborhood. I am proud that we are part of the project and were able to represent HSH at the opening."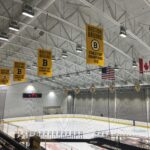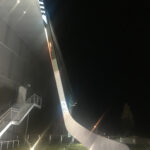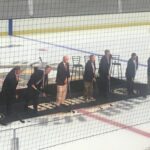 HSH has been providing planning, engineering, and construction phase services for the development.  At the ground level, HSH helped to plan and permit the master plan for the Boston Landing Development by studying the transportation impacts and recommending traffic mitigation to support the growth in the neighborhood.  With the opening of each phase of the master plan, HSH supported the mitigation efforts by designing bicycle facilities, upgrades to existing traffic signals, and installation of new traffic signals to enhance access.   HSH's support of the Project included lead coordination efforts with the Boston Transportation Department (BTD), the Department of Conservation Resources (DCR), Massachusetts Bay Transportation Authority (MBTA), Boston Redevelopment Authority (BRA), Boston Public Works Department (BPWD), Malta Environment and Planning Authority (MEPA), and MassDOT.  All along the way, our Construction Services Group has facilitated the building of the development parcels by producing Construction Management Plans for the New Balance Headquarters, Bruins Training Facility, the Celtics Training Facility, and the Residential Tower.
HSH is continuing to work with the Project Team in areas of design, permitting, and construction to complete the overall vision of Boston Landing.
Boston Landing will also include office and retail space, a track and athletic center for elite running events, a hotel, and 295 residential housing units.   Another exciting element is the new Boston Landing commuter rail station on the MBTA's Framingham/Worcester Line.  Slated to open in 2017, the station is being financed by New Balance under a public-private partnership agreement with the MBTA.
For more information on the project, or how HSH can help with Transportation Planning, Engineering, and Construction Services needs, click on the provided links.