Celebrate Bike Week!
May 14, 2019
Look How Far We've Come and Where We're Going
In the last 10 years, Massachusetts has gone from having few dedicated bicycle facilities to being a national leader in biking thanks to creative minds, tireless advocates, and progressive policy-makers. We have come a long way and have further to go in the next 10 years. HSH is honored to have been a part of this transformation, and we look forward to working with all of you to keep the momentum going!
Bicycle-friendly State Rankings, 2017,
League of American Bicyclists, 2018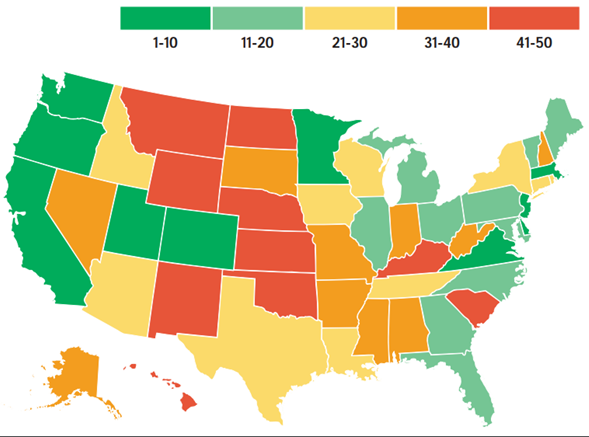 Historical State Rankings, 2008-2017,
League of American Bicyclists, 2018
Meet Our Planning and Design Team
Elizabeth Flanagan
| | |
| --- | --- |
| | My work in transportation began on the Beacon Street Reconstruction project in Somerville, advocating for the inclusion of a grade-separated side path. Fast forward six years and now I can ride on the nearly complete path on my way to work! |
Kayla Sousa
| | |
| --- | --- |
| | I am happiest when I'm on a bicycle, so riding to work is the best way to start my day. I am lucky enough to get off of the road and ride the Neponset River Rail Trail as part of my route. By designing the extension of the Northern Strand, I hope to improve the safety of other people's commutes, too. |
Amy Ingles
| | |
| --- | --- |
| | Biking, my main mode of transport for 13 years, lets me exercise my body as well as my passion for safe, green, efficient, and enjoyable transportation. In my previous role as Bike/Ped Coordinator for Jacksonville, FL has shown me that more work is needed, especially in our most car-centric communities. |
Jeff Dietrich
| | |
| --- | --- |
| | Without exaggeration, biking has changed my life. It's a thrill to watch it change the city I call home, and to do my part to push the needle forward at a firm that understands the complex interactions between process, politics, projects, and policy—and believes that change is worth the work. |
Jessica Lizza, P.E.
| | |
| --- | --- |
| | As a traffic engineer, I have been excited to help shift focus from vehicular level of service to the safe movement of people across all modes. By working on Vision Zero and other safety-oriented projects throughout Massachusetts, we get to shape communities to be safer and more livable for everyone. |