Breaking New Ground on Massachusetts Air Rights
February 15, 2021
Big changes to the Boston skyline as the Masspike P12 Air Rights project rises up!  HSH is proud to be an important team member, focusing on community engagement, permitting, and the on-going construction.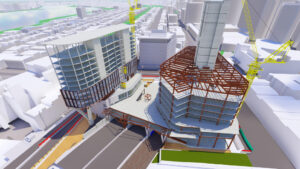 Parcel 12 Air Rights
A new look for the Boston skyline!
The new 15-story, 435,000-square-foot (sf) office building and 13-story, 150,000-sf hotel, along with 50,000 sf of retail, are in construction on a deck over the Turnpike.
HSH has been involved in traffic engineering, community engagement, temporary traffic control, and site access plans, including:
Assisted in identifying and convening the appropriate City, state, community, and elected official stakeholders to determine mitigation for possible impacts on the local and regional transportation network.
Facilitated permitting process and continued to keep all stakeholders apprised of progress and potential concerns to streamline project delivery.
Carried out a successful public outreach program that required working collaboratively with Samuels & Associates and numerous public agencies for effective solutions.
Designed a multi-stage Temporary Traffic Control Plan (TTCP) and Construction Management Plan (CMP), providing the contractor with numerous traffic management options to facilitate construction.