Improving ADA Accessibility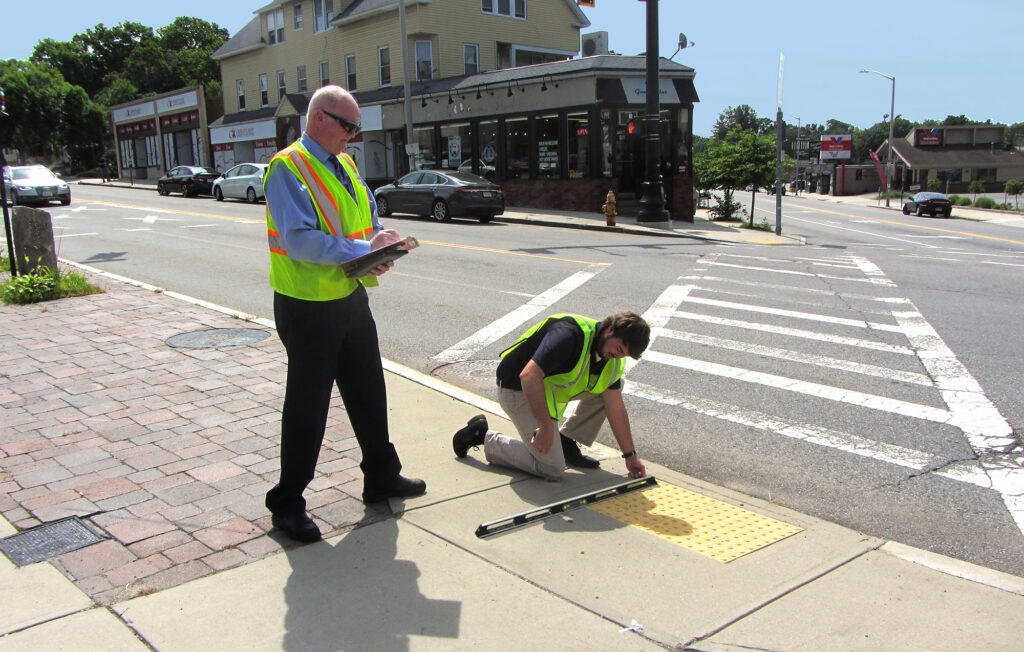 Since 1990, The Americans with Disabilities Act (ADA) has provided equal opportunity for individuals with disabilities in areas such as public accommodations, employment, transportation, state and local government services, and telecommunications.
Howard Stein Hudson has been involved in ensuring ADA-compliant transportation modifications in and around Massachusetts for a number of years.  HSH offers ADA retrofit services, including non-motorized asset prioritization planning, quality control of asset databases, GIS spatial analysis, ADA compliant pedestrian curb ramp design, and pavement marking design. HSH complies with NCHRP Report 803 Pedestrian and Bicycle Transportation Along Existing Roads – ActiveTrans Priority Tool Guidebook in our work, and has done extensive work with the Massachusetts Department of Transportation (MassDOT) retrofitting curb ramps across the state.
Are You Ready for the New Municipal Americans with Disabilities Act (ADA) Improvement Grant Program?
Take advantage of this Massachusetts statewide program that supports capital improvements that improves access or remove barriers for persons with disabilities including self-evaluation/transition planning and project implementation.
What is the ADA Improvement Grant?
A program that helps fund capital improvements for improving access for persons with disabilities
Who is Eligible?
Any Massachusetts city or town
What Agency Administers the Grant?
The Massachusetts Office on Disability (MOD)
What Level of Funding is Available?
Up to $250,000
We will:
Evaluation of existing safety infrastructure;
Consideration of appropriate ADA best practices for your location;
Review of funding and compliance;
Recommendations for improvements and priorities;
Working with community leaders to develop a clear plan for ADA accessibility; and
Education of constituents about new infrastructure elements.
Meet Our Team
Steven Tyler, P.E.
Accessibility for all users is important to me because of the vital impact it has on the quality of life and access to human health and services especially for persons with disabilities. In the public realm accessibility should never be a deterrent to basic everyday services and human needs.
Chris Lyman
ADA is important to me because it allows people with disabilities to travel freely especially when walking on sidewalks which may be the only form of transportation they can use because of their disability. ADA compliance allows them to live a more free and independent life.
Jocelyn Dewire
I have enjoyed helping to improve infrastructure that has not always been the focus of transportation improvement projects. Improving ADA facilities, especially sidewalks and curb ramps, is not only a necessity for the users who rely on them to get around, but also helps make communities safer and more livable for everyone.
Teren Wong
I enjoy knowing that our designed solutions that not only makes sure those with disabilities are able to use our built environment well, but also knowing that it helps the parent pushing a stroller, or a delivery person bringing your next big online purchase. Well designed ADA-accessible infrastructure benefits everyone.