School Plan Case Study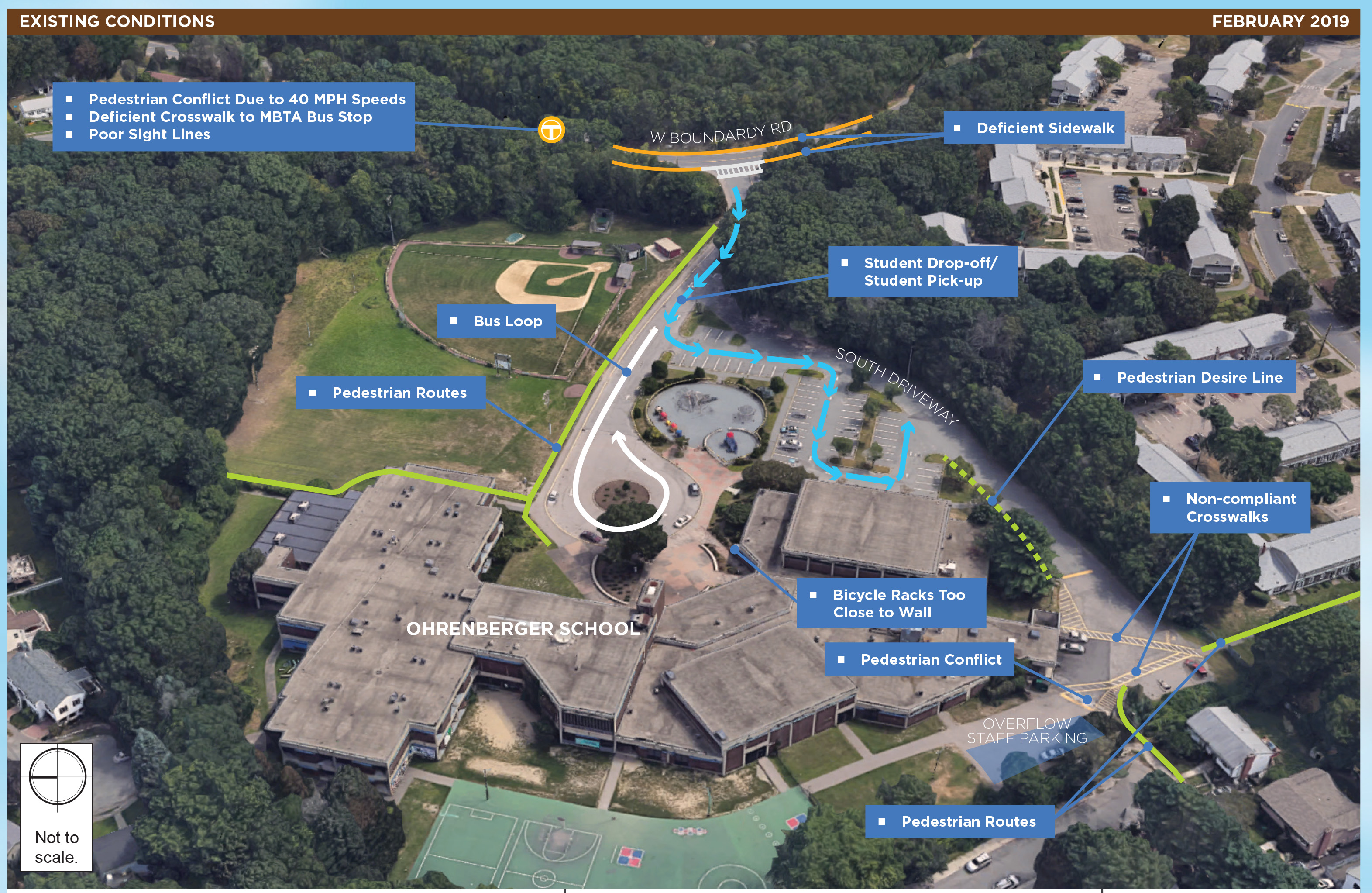 Prepared for
William H. Ohrenberger School
West Roxbury, Massachusetts
At the William H. Ohrenberger School, 76% of students living within half a mile from the school walk to and from school and an additional 18% of students ride MBTA buses to nearby bus stops.   With so many students relying on safe walking paths, school leadership prioritized assessing the existing pedestrian conditions at and around the school and developing recommendations to improve pedestrian safety.
A series of walk assessments were conducted with Boston Public Schools Transportation, Boston Transportation Department, Boston City Councilor Matt O'Malley, school staff, and parents.  Key observations included:
While the school has several pedestrian paths, critical gaps in the network, poor sight lines, deficient crosswalks and high speeds create conflict points both on the school campus and on the adjacent streets.

 

Although the south driveway, which connects West Boundary Road to Fensmere Road operates primarily as an on-campus roadway, providing on-street overflow staff parking and used for circulation of parent drop-off/pick-up activity, it also serves through traffic from the neighborhood.

   

Currently school staff direct parent traffic and assist students crossing at the
deficient crosswalks.

 

These conditions highlighted the need for improvements to city infrastructure, on-campus circulation, and the school's arrival/dismissal procedures.

 
As a result of the walk assessments, the Boston Transportation Department recently added pedestrian signage along West Boundary Road and provided accessible curb ramps and crosswalks across W. Boundary Road and Main Entrance.  Boston Public Schools Facilities is continuing to address traffic circulation while prioritizing pedestrian safety on campus.
Read more on how HSH can help you with Safe Routes to School.